The 3rd Comprehensive Senior High School of Nea Philadelphia "Miltos Kountouras" has been named after the Athens suburb Nea Philadelphia, where it is located, as well as after the well-known Greek pedagogue Miltos Kountouras.
Our local area, Nea Philadelphia, is inhabited by about 25.000 people.
It owes its name to the ancient town 'Philadelphia' in Asia Minor where the first inhabitants of Nea Philadelphia came from as fugitives after the destruction of Smyrna (Izmir) in 1922.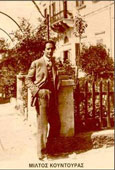 Miltos Kountouras (1889-1940) fought for the liberalisation of education. His principles are reflected in the demand for free choice of school textbooks, respect to the teacher and the peculiarities of each school environment and each student and, above all, in the emphasis on the pedagogical role of school.
Our school was founded in 1984. Τhere are 44 classrooms, 6 laboratories, a centre for science, a centre for career orientation, a library, a gym, an amphitheatre and offices.

The basic objective of our school has always been the link of school to life through a multitude of extra-curricular activities and research educational programmes. Moreover, our school is a UNESCO partner school.

Among the School Action Programmes that have been carried out at our school are the following:
Health Education
Environmental Education
Cultural Actions
Student Mobility
Career Orientation
European projects in the framework of the actions LINGUA – SOCRATES and COMENIUS
Projects in the framework of the European programme E-TWINNING
Project for the equality of the sexes
We have received awards in multimedia & educational software concourses, in sport and music competitions, art contests, for the production of a film as well as for publications of students' articles in papers and magazines.
Our awarded film in the framework of the project "Let's go to the cinema"
Also, responding to the growing interest of our young pupils for active participation in international projects, we are participating successfully in the etwinning, comenius and erasmus+ programme.